materials:
-porcelain paint, I used some from Hobby Line, water based
-porcelain paint, clear , for a final varnish to protect it from knife cuts,water based (read the
instruction! has to be the same baking time as the color ones)
-porcelain outline pen, with a fine point
-Q-tips and tissues
-a fine brush
-a white porcelain plate or something else
-----------------------------------------------------------------------------------------------
1. wash the plate.it has to be free of grease and dirt.
2. stir your outline pen well and do some test drawings.
--important--paint only the border of the plate.you can disturb your painting with a knife...
I know it´s difficult to draw clear lines- but you can easily remove the stroke with a wet Q-tip or tissue. then try it again.and let it dry a bit.
3. Fill out the motif with the brush and the colour.You can also mix the colours.
I used white and red for the pink birds. And let it dry.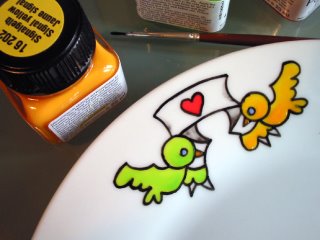 4. Now it depends on how you worked- I usually fix some outlines.
5. Now it´s time to give the motif a varnish. Use the clear colour and paint it thick inluding the
outlines.And let it dry about 4 hours.
6. place the plate in the cold oven and turn it on to 160 °C. for 90 minutes.
Now the painting is waterproof and dishwasher usable.But take care with the knife.
p.s. this will happen if you don´t read instructions.the clear varnish had a baking time
of 30 minutes.and I burned it for 90 minutes.
:/
So please use a clear varnish with the same baking time.
I hope this was useful
--wish you a happy painting!--